United Tractors [UNTR] Q4 Full Year 2021 Financial Statements
In 2021, United Tractors [UNTR] has increased its cash levels to IDR 33.3 trillion or about 29.6% of total assets from IDR 20.5 trillion in 2020. During the same period, total liabilities increased to IDR 40.7 trillion, while total equity has risen to IDR 71.8 trillion.
As such, debt-to-equity ratio stands at 0.57x, representing a minor improvement from 2020 (0.58x). 
Additionally, the amount of bank debt on the company's balance sheet has also decreased. In 2019, United Tractors [UNTR] had IDR 13.3 trillion in bank debt, whereas in 2021 that number had shrunk to IDR 8.022 trillion.

In 2021, United Tractors [UNTR] managed to grow its earnings by 88.34% YoY, from IDR 5.6 trillion in 2020 to IDR 10.6 trillion. The growth in earnings this year signaled a quick recovery for the company, as in 2020, United Tractors reported that earnings had shrunk by -49% YoY.
Previously, the company's earnings had also decreased by -3.16% YoY in 2019. For the last three years, CAGR for earnings stand at -1.6%. 
Meanwhile, revenue had increased from IDR 60.3 trillion in 2020 to over IDR 79.5 trillion in 2021, representing an increase of 31.67% YoY. Like earnings growth, the high revenue growth in 2021 meant the company was recovering quickly from its poor performance in 2020, when revenues had decreased by -28.52% YoY. CAGR for revenue for the last 3 years stand at -2.0%. 
As of 2021, the company's profit margins have more or less returned to pre-pandemic levels, with net profit margin at 13.35%. Additionally, Gross profit margin rose to 24.75% YoY, while operating profit margin increased to 18.2% YoY. 
In 2021, Cash from operations increased to IDR 23.3 trillion from IDR 18.6 trillion in 2019. Free cash flow stood at IDR 20.1 trillion, while net change in cash in 2021 was IDR 12.7 trillion. 
CapEx in years 2021 and 2020 was much lower than in 2019 (IDR 9.75 trillion), but it is set to return to high levels in 2022. Specifically, United Tractors [UNTR] has set CapEx for 2022 at USD 750 million (approximately IDR 10.75 trillion).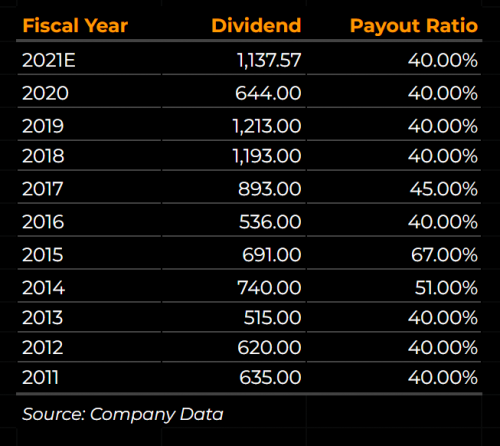 Having issued dividends every year since at least 2004, United Tractors [UNTR] has an extensive dividend history. For fiscal years 2011-2020, the company's dividends had a payout ratio ranging from 40% to 67%.
In the last three years, the payout ratio has always been 40%, making it likely that the payout ratio for fiscal year 2021 will be the same. At that payout ratio, it is estimated that the total dividends for FY 2021 will be IDR 1,137.57 per share. 
Since United Tractors had already issued interim dividends of IDR 335 per share, the final dividend should approximately be IDR 802.57 per share. This implies a good yield of 3.22% for the final dividend at the current market price, and a total yield of 4.57%.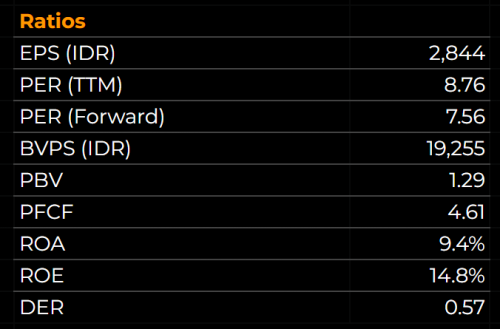 As of February 25th, 2022, United Tractors [UNTR] closed at a price of IDR 24,900 per share. With 3.73 billion shares outstanding, the company has a market cap of 92.88 trillion. 
In 2021, EPS reached IDR 2,844 per share, which translates to a trailing Price-to-earnings ratio of 8.76. Assuming EPS for 2022 of IDR 3,292, UNTR has a forward PER of 7.56. Price-to-book value ratio stands at 1.29, while price-to-free cash flow is at a relatively low 4.61.
Compared to 2020, Debt-to-Equity ratio improved slightly from 0.58x to 0.57x. 
With its finances quickly recovering from 2020 and an extensive dividend history, income investors may find United Tractors [UNTR] to be an attractive investment.
The company is currently priced by the market at a low forward PER of 7.56x, and has a strong balance sheet with a relatively low DER of 0.57x.
As of February 26th, 2022, I own a small number of shares in UNTR. 
Although I try to be as objective as possible in my analysis, some bias may nevertheless be present.
Please seek advice from a finance professional before making any investment decision. 
Readers are fully responsible for their own investment decisions, and must do their own due diligence.
I take no responsibility for any losses you may incur based on the information provided.