Indo Tambangraya Megah [ITMG] Q4 Full Year 2021 Financial Statements
"ATH Coal Prices = Outsized Profits"
In 2021, Indo Tambangraya Megah [ITMG] benefited greatly from all-time high coal prices, like many other coal mining companies.
Cash and cash equivalents increased to USD 690.97 M from USD 231.45 M in 2020. This figure represents 41.47% of total assets, up from 19.98% the previous year. Total assets grew by 43.81% YoY. 
Equity increased significantly, but so did liabilities, resulting in a marginally higher debt-to-equity ratio of 0.39x (0.37x in 2019).  

While Indo Tambangraya Megah experienced declines in revenue and profits in 2020 and 2019, the company performed far better in 2021. Revenue grew by an incredible 75.21% YoY to over USD 2 B, while net profit grew by an outstanding 1,156.71% to over USD 475 M. 
However, net profit did decrease by 70% in 2020, so the increase in net profit for 2021 should be taken with a grain of salt. Comparing earnings for 2021 with earnings for 2019 (+275.8%) or 2018 (+83.72%) would probably yield a more accurate representation of the company's earnings growth in 2021. 
The three-year CAGR for ITMG's revenue is 6.58%, while for net profit, the figure reached 55.47%. 
In 2021, Indo Tambangraya Megah's Cash from Operations increased to over USD 617 M from USD 172 M YoY. As a result, cash and cash equivalents increased to over USD 690 M.
Likewise, Free Cash Flow was especially high in 2021, amounting to over USD 593 M. Compared to 2020's FCF of USD 127 M, this represents a significant leap. It would not be unreasonable to expect outsized dividends from fiscal year 2021's earnings.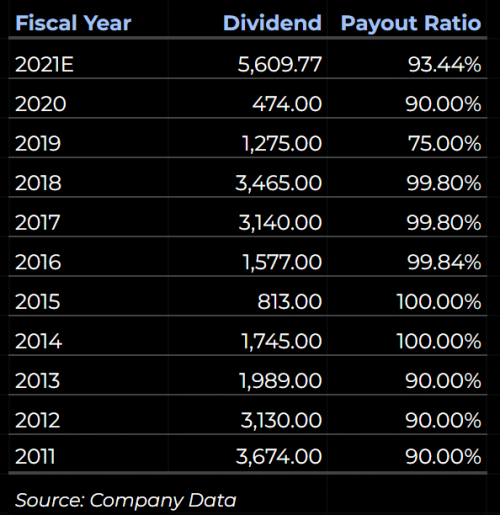 Having issued dividends since 2008, Indo Tambangraya Megah has an extensive dividend history. From fiscal year 2011 to 2020, the company has issued dividends with extremely high payout ratios ranging from 75-100%. 
If the company pays out dividends with the average payout ratio during this period (93.44%), then we can expect total dividends for fiscal year 2021 to be around IDR 5,609 per share. This would mean a dividend yield of 23.4% at the  current market price of IDR 23,975. 
Since the company has already paid interim dividends of IDR 1,218 per share, the final dividend for FY2021 should be around IDR 4,391 per share. The estimated yield for the final dividend is approximately 18.32%. 

As of February 23rd, 2022, Indo Tambangraya Megah closed at a price of IDR 23,975 per share. With 1.13 billion shares outstanding, the company has a market cap of 27.09 trillion. 
Using the exchange rate the company quotes in its Q4 2021 financial statements, ITMG's EPS for 2021 is IDR 6,003. At this level, the company's price-to-earnings ratio stands at just 3.99x, while price-to-book value ratio equals 1.58x. Price-to-Free-Cash-Flow is just 3.20x, incredibly low. 
Similar to 2020 and 2019, ITMG's debt-to-equity ratio for 2021 is around 0.39x. 
Experiencing a tremendous boost from soaring coal prices, Indo Tambangraya Megah has reported outsized profits and growth compared to the last few years.
The company's dividends is likely to experience the same boost as well, and ratios like the PER, PBV, and PFCF are signaling that the company is likely undervalued, at least for the moment. 
One does have to wonder, though, how much longer coal prices will remain at such high levels, and whether the company can maintain this level of growth in the future. 
As of February 23rd, 2022, I do not own any shares in ITMG. However, this may change at any time in the future.
Although I try to be as objective as possible in my analysis, some bias may nevertheless be present.
Please seek advice from a finance professional before making any investment decision. 
Readers are fully responsible for their own investment decisions, and must do their own due diligence.
I take no responsibility for any losses you may incur based on the information provided.