Mitrabara Adiperdana [MBAP]: Profits Increased Over 266% in 2021; Revenue Up 54%
"Another Underpriced Coal Stock?"
Mitrabara Adiperdana
In 2021, the amount of cash/cash equivalents and Time Deposits on Mitrabara Adiperdana's balance sheet increased significantly. As of December 31, 2021, the company has USD 63.9 million in cash/equivalents and another 83 million in time deposits.
With no bank debt and its Debt-to-Equity ratio at 0.29x, Mitrabara Adiperdana's balance sheet is incredibly healthy. Additionally, the company has a current ratio of 3.98x and a quick ratio of 3.76x, indicating a good level of liquidity.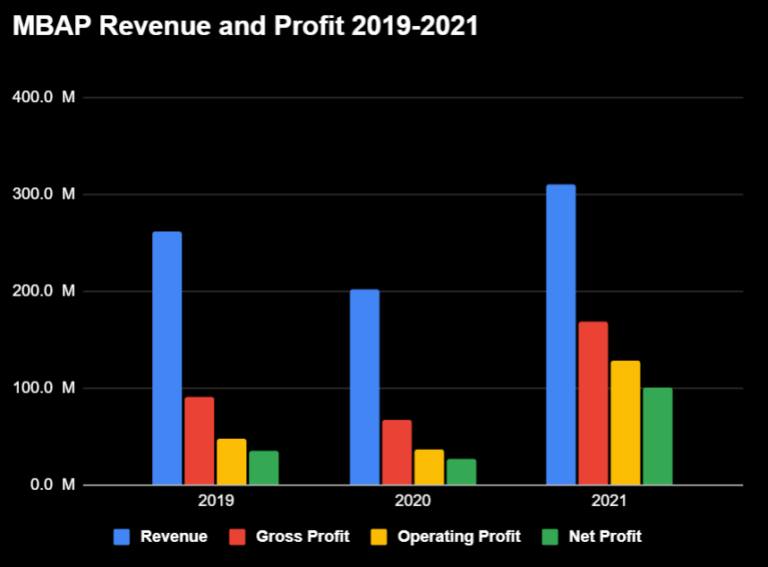 In 2021, Mitrabara Adiperdana's revenue increased to USD 309.8 million, a growth of 53.99% compared to 2020. Net profit increased by a staggering 266% to 100.6 million, compared to a contraction of -22% the previous year. 
As a result, the company's return on assets increased to 39.02% from just 15.09% in 2020, while its return on equity increased to 50.29% from 19.87%. 
In addition, Mitrabara Adiperdana's profit margins saw significant improvement. In 2021, its operating and net profit margins rose to 41.52% and 32.46%, respectively. Just a year before, operating and net profit margins stood at just 18.14% and 13.65%, respectively. Gross profit margin also improved, from 33.29% in 2020 to 54.15% in 2021. 
In 2021, Mitrabara Adiperdana's cash from operating activities increased to USD 107.3 million from just 44.6 million the previous year. As CapEx remained fairly low, free cash flow for Mitrabara Adiperdana rose even higher to USD 103.6 million.
This allowed the company to book a positive net change in cash of 17 million, after paying out USD 38.9 million in dividends (dividends constitute the majority of cash to financing). Also, this pushed Mitrabara Adiperdana's cash balance to 63.9 million, which does not include the USD 83 million the company has in time deposits.
The negative net change in cash for 2019 was mainly due to the company placing USD 62 million into time deposits. Capital expenditure for that year actually remained low at 3.4 million, while cash from operating activities were higher than 2020.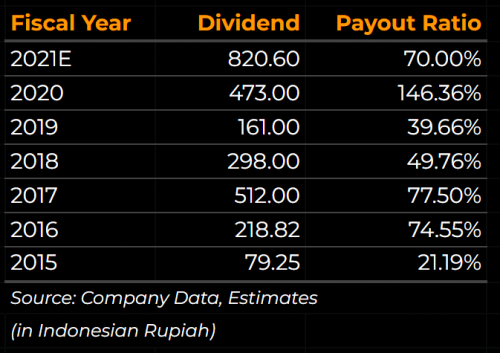 Since book year 2015, Mitrabara Adiperdana has been paying out dividends. The payout ratios for these dividends have fluctuated a good deal, but I estimate that the company will issue 70% of its earnings for book year 2021 as dividends. 
At that payout ratio, the total dividend for 2021 should reach IDR 820.60 per share. Since Mitrabara Adiperdana has already given out an interim dividend of IDR 338 per share for book year 2021, the final dividend is estimated to be IDR 482.6 per share. 
At the current price, this would imply a yield of 12.37% for my estimate of the final dividend. The total yield for book year 2021 is then approximately 21%. 
As of March 29th, 2022, Mitrabara Adiperdana closed at a price of IDR 3900 per share. With 1.2 billion shares outstanding, the company has a market cap of 4.79 trillion. 
In 2021, Mitrabara Adiperdana's earnings per share reached IDR 1169.98, resulting in a trailing PER of just 3.33. If we assume Mitrabara Adiperdana's earnings will grow by just 5% in 2022, the company has a forward PER of just 3.17.
Additionally, Mitrabara Adiperdana has a price to book value of 1.68 and a price to free cash flow of 3.24.
By several value ratios, Mitrabara Adiperdana certainly looks cheap. When comparing the ratios to those of a few other coal mining companies, it may even be cheaper than some of them. 
If Mitrabara Adiperdana was to trade at say, a trailing PER of 5x, it would have a price of IDR 6,142 per share. This would mean Mitrabara Adiperdana is currently trading at a discount of 57.5% 
It's certainly a good time to be an investor in the coal mining industry, as many coal companies have benefited greatly from the surge in prices. With a large pile of cash, a healthy balance sheet, strong cash flows, and high margins, Mitrabara Adiperdana has a lot going for it. Additionally, investors may also be attracted by its history of dividends and relatively undemanding valuation. Currently, the company's valuation seems to be on the lower end of the spectrum among coal miners. 
As of March 29th, 2022, I do not own any shares in MBAP. However, this may change at any time in the future.
Although I try to be as objective as possible in my analysis, some bias may nevertheless be present.
Please seek advice from a finance professional before making any investment decision. 
Readers are fully responsible for their own investment decisions, and must do their own due diligence.
I take no responsibility for any losses you may incur based on the information provided.