Indo Tambangraya Megah [ITMG] Announces Final Dividend for 2021
"Larger Than Before, Not As Large As some Expected"
2021 Final Dividend Amount, Yield, and Schedule
In today's shareholder meeting for Indo Tambangraya Megah [ITMG], the company has announced that the final dividend for fiscal year 2021 will equal IDR 4,258 per share.
This amount includes the interim dividend of IDR 1,218 per share already issued to shareholders on November 24th, 2021. Accordingly, the remainder amount to be paid out equals IDR 3,040 per share. 
Currently, the total dividend of IDR 4,258 per share represents a 15.32% yield at the going market price of IDR 27,800 per share. The yield for the remaining dividend of IDR 3,040 per share is 10.94%, much higher than the average dividend for the Indonesian stock market.
This is likely to be a recurring theme this year with a few other coal mining companies, as several firms in the industry reports record high profits.
The company has set the Cum Date for April 1st, 2022, with the Payment Date due on April 22nd, 2022. 
If you read the financial statements of Indo Tambangraya Megah for 2021, the large dividend would come as no surprise. The company's earnings in 2021 at an approximate EPS of IDR 6,003 per share were much, much higher than in 2020. 
Accordingly, the 2021 dividend for Indo Tambangraya Megah at IDR 4,258 per share is the highest DPS for the company since 2011. Although this is great news, some investors may have been expecting a higher payout ratio given the company's history. Indo Tambangraya Megah has a track record of paying out 90-100% of its earnings as dividends to shareholders.
So, the dividend amount announced may have been a bit of a disappointment to some. After the dividend announcement today, Indo Tambangraya Megah closed at a price of IDR 27,800 per share, down 0.89% from opening price. 
Still, a dividend yield of over 10% (at current prices) is nothing to be scoffed at. 
Current Price and Relevant Ratios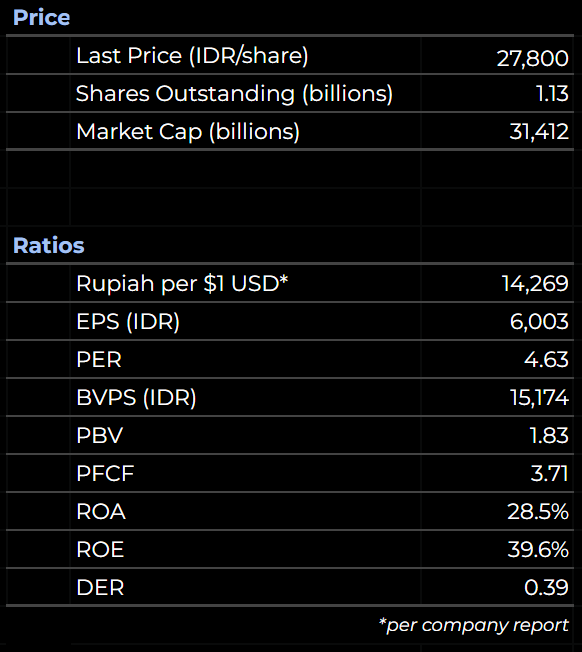 As stated before, Indo Tambangraya Megah closed at a price of IDR 27,800 per share on March 24th, 2022. Currently, the stock trades at a price to earnings ratio of 4.63 and a price to book value of 1.83. Its price to free cash flow ratio is similarly low, at 3.71. 
In 2021, Indo Tambangraya Megah recorded a return on assets of 28.5% and a return on equity of 39.6%. Debt to equity ratio stands at 0.39. 
Presently, several players in the Indonesian coal market trade at similarly low valuations. The table below compares their PER, PBV, and PFCF (closing prices of March 23rd, 2022 were used).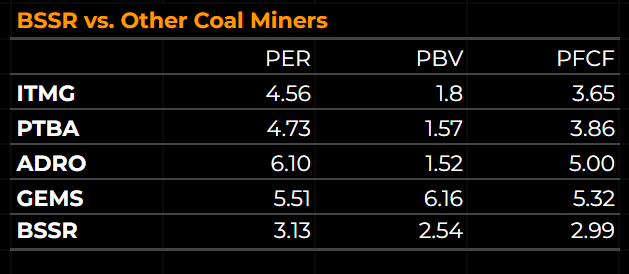 As of March 15th, 2022, I own a small number of shares in PRDA.
Although I try to be as objective as possible in my analysis, some bias may nevertheless be present.
Please seek advice from a finance professional before making any investment decision. 
Readers are fully responsible for their own investment decisions, and must do their own due diligence.
I take no responsibility for any losses you may incur based on the information provided.