5 Companies Aggressively Buying Back Shares
Inspired by Mohnish Pabrai's Uber Cannibals strategy, this is a list of 5 Indonesian companies aggressively buying back their own shares.
According to Pabrai, "the Uber Cannibals is a 5-stock Investing Strategy that invests in businesses aggressively buying back their own stock. This is a "set it and forget it for one year" strategy that rebalances every April when 5 companies are selected for the portfolio for the upcoming year."
You can read more about Mohnish's Uber Cannibals on his website: ChaiWithPabrai and in the original Forbes article he co-wrote on the topic. The actual Uber Cannibals portfolio has more rules and parameters than this simple list, so be sure to check it out.
Here are the 5 companies: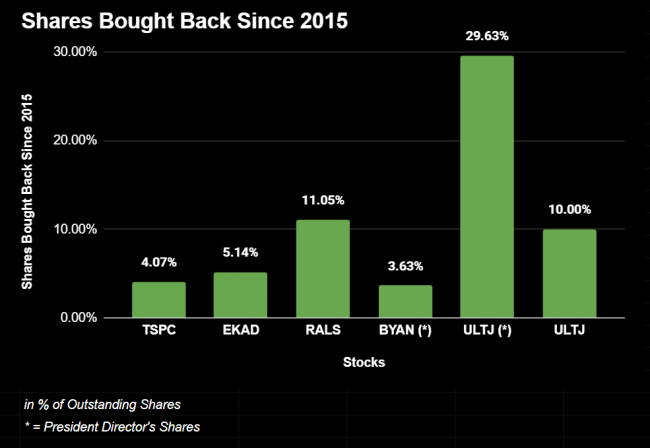 Between December 2015 to January 2022, these 5 companies bought back a significant number of shares.
Perhaps in light of its shares plummeting in price, Ramayana Lestari Sentosa [RALS] has bought back around 11% of its outstanding shares within the last 2 years. In 2021 alone, it bought back around 6.07% of outstanding shares.
If we look at Tempo Scan Pacific [TSPC] and Ekadharma International [EKAD] though, we can see that both of these companies have been buying back shares every year since at least 2015. Compared to RALS, these two companies have been much more consistent in share repurchases. For any given year, they have bought up to 1% of outstanding shares.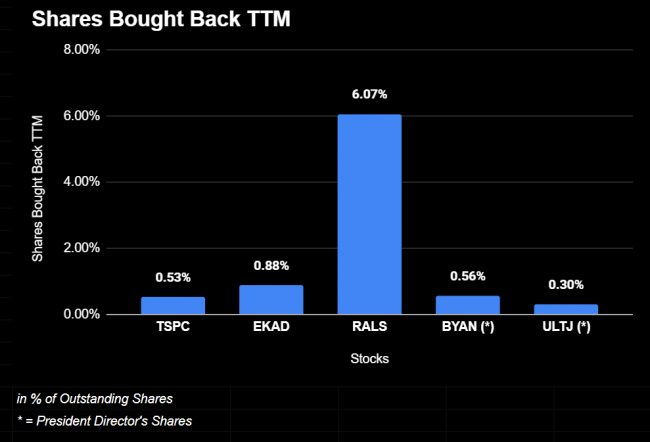 As of Late January 2022, all 5 companies are still buying back shares.
In the case of Bayan Resources [BYAN] and Ultra Jaya Milk Industry [ULTJ], the companies are not technically buying back their own shares; their respective President Directors are the ones that have been continuously buying each company's shares.
From 2018 to January 2022, the President Director of BYAN has bought back 3.63% of the company's outstanding shares. On the other hand, the President Director of ULTJ has bought a staggering 36% of its outstanding shares from 2017 to January 2022.
(Note: While the company has not been buying back shares for the past year, ULTJ did buy back 10% of its outstanding shares in 2020. This is the first time the company repurchased its shares since 2015, though.)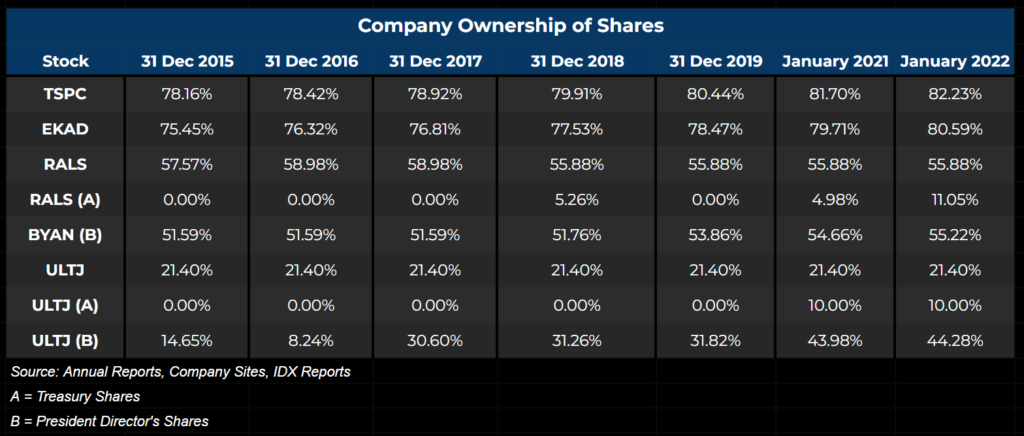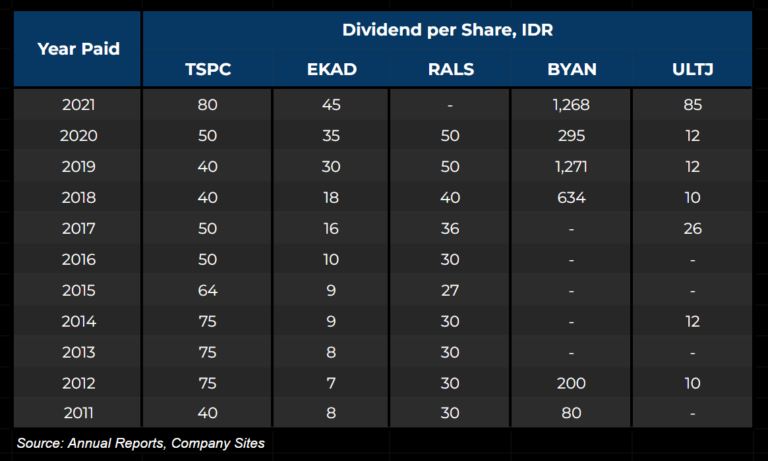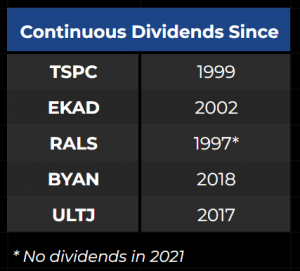 In addition to continuously buying back shares, a few of these companies have a history of consistently issuing dividends. Particularly, TSPC and EKAD stand out as they have paid dividends every year for decades, even during the pandemic.
Although RALS has a similar dividend history to TSPC and EKAD, they unfortunately did not pay out any dividends in 2021 (the first time since 1997). Operating in the retail industry, RALS was hit particularly hard in the first year of the pandemic and booked losses, which explains the lack of dividends.
Going by the company's performance in 2021, which has not recovered to pre-pandemic levels yet, it is likely that the company will not distribute dividends in 2022 either.
While Tempo Scan Pacific's dividends tend to have a healthy payout ratio ranging from 33-46% for the last 5 years, Ekadharma International's dividends usually have a lower payout ratio in the range of 13-33%. 
Similar to TSPC, Ramayana Lestari Sentosa typically issues dividends with a payout ratio of around 50-60%. Meanwhile, Ultra Jaya's payout ratio in 2021 jumped rather steeply, from an average of 14.6% to an incredibly high 79.7%. 
Likewise, Bayan Resources' dividend payout ratio sharply increased last year to an astronomical 91.26%, possibly as a result of large inflows of cash from soaring coal prices.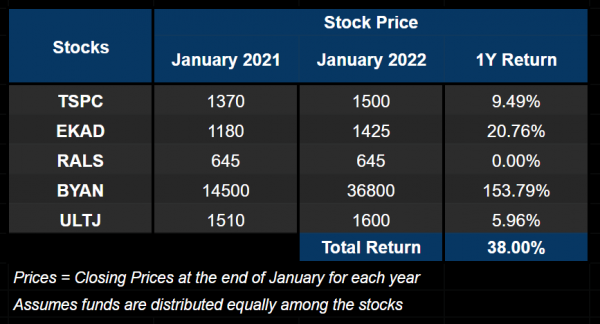 Backtesting this portfolio of 5 companies shows that it would have returned a profit of 38% over the past year, while the IDX Composite Index (IHSG) returned around 13%.
Meanwhile, if we had invested in this portfolio in January 2017 and just held it, we would be up 120.8%, despite two stocks (TSPC and RALS) performing rather poorly. Compared to IDXCI's return of around 25% over the same period, the portfolio outperformed the index by a significant margin.
Assuming we started with IDR 500 million and distributed it equally among each stock, the portfolio would now be worth roughly IDR 1.1 billion.
However, it's clear that the portfolio's returns was influenced strongly by the performance of two companies, EKAD and BYAN. Particularly, BYAN returned over 493% during the past 5 years, and over 153% in the last year alone.
Additionally, the portfolio generated dividend income of IDR 119.9 million over the past 5 years, a return of 23.98% on top of the capital appreciation. Including dividends, the portfolio returned a total profit of 144.78%. 
On the other hand, if we invested in these stocks last year, the total profit including dividends (4.81%) would reach 42.81%. 
Again, BYAN and EKAD stand out, as dividends from these two companies are much higher than from other stocks in the portfolio. Total dividends from BYAN is roughly 4 times higher than dividends from TSPC, RALS and ULTJ. 
Since buybacks increase shareholder value, looking at companies who have been diligently repurchasing shares can be a way to find good opportunities in the stock market.
When those companies have also been issuing dividends, it is an even better opportunity for shareholders, as they may profit from both capital appreciation and dividend income.
Personally, I would maybe drop RALS from a portfolio based on this list, as the road to recovery for the company may be longer than some would anticipate.
On the other hand, TSPC and EKAD seem particularly strong, mostly because both companies have a long history of buybacks and paying dividends.
While ULTJ and BYAN do not have the extensive buyback and dividend history of TSPC and EKAD, the fact that key management personnel are majority owners in each company (and continue to buy shares as of January 2022) indicates strong insider confidence in both companies' performance.
As always, potential investors should do their own due diligence, especially since this list focused only on the share repurchase, ownership, and dividend aspects of these companies.
As of January 31st 2022, I own a small number of shares in TSPC, EKAD, BYAN and ULTJ. 
Although I try to be as objective as possible in my analysis, some bias may nevertheless be present.
Please seek advice from a finance professional before making any investment decision. 
I am not affiliated with Mohnish Pabrai in any way. 
Readers are fully responsible for their own investment decisions, and must do their own due diligence.
I take no responsibility for any losses you may incur based on the information provided.