7 Stocks That Should be on Your Watchlist and Why
With hundreds of companies on the Indonesian Stock Exchange, it can be fairly tough just knowing where to look for viable companies to invest in, never mind the difficulty of actually analyzing those companies once you find them.
That's why I put together this short list of companies that have recently reported stellar performance and may continue to perform well in the future. Compared to my previous posts, this one will be fairly light on the research. 
Rather than just taking my word for it, when you see the stocks on this list, I hope that it encourages you to look deeper into each company. Think of it as a starting point. You should try to deduce the reasons behind their performance, and whether these companies will be able to produce similar or better results in the future.
BYAN - PT Bayan Resources Tbk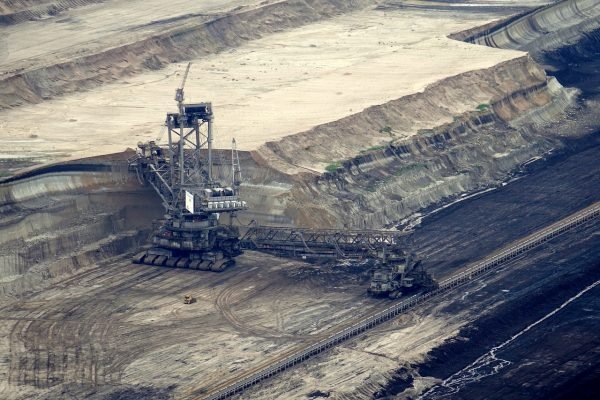 High Earnings Growth from 2016-2020,

except for 2019

. 

+47% growth in 2020

Extremely high earnings growth in Q3 2021 (+475% YoY)
Profit margins have historically tended to be high, and have greatly improved in 2021. 

Q3 2021: Gross profit margin = 61.54%, Net Profit Margin = 38.89% 

FY 2020: GPM = 33.18%, NPM = 24.69%
As of Q3 2021, DER is at a good level of 0.47x, much lower than historical levels.

Historically high levels of positive FCF

Large Insider Ownership (

as of December 31, 2021

)

President Director Dato' Dr. Low Tuck Kwong as controlling shareholder owns 55.2% of the company. He steadily bought shares in 2021, and is still buying shares as of January 19, 2022. 

Director Jenny Quantero owns 2.98% of the company

Director Lim Chai Hock owns 3.2% of the company

Catalyst:

All time high coal prices
MARK - PT Mark Dynamics Indonesia Tbk
Business: Ceramic Molds for Disposable Gloves (Hand Formers)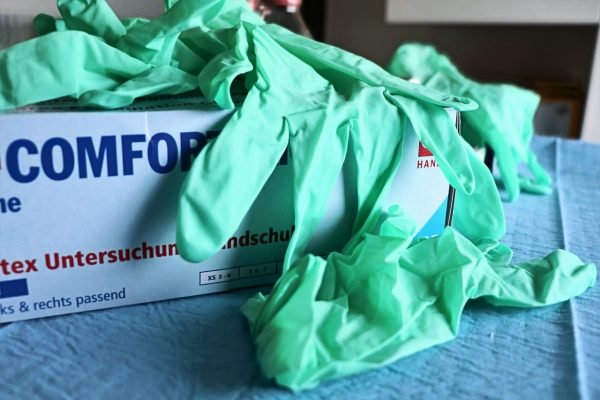 High Revenue growth for the past 5 years. 

+56.4% for FY 2020

+141.57% for Q3 2021 YoY
Earnings have grown at high rates for the past 5 years. 

+63.85% growth for FY 2020

+200% earnings growth for Q3 2021 YoY.
Margins have steadily improved since 2016

GPM grew from 22.95% in 2016 to 51.8% in 2021 Q3.
NPM grew from 9.45% in 2016 to 33% in 2021 Q3. 
Demand for gloves (and hand formers) is much greater than supply,

resulting in shortages

. 
Catalyst: Increased demand for gloves as a result of the pandemic should also mean increased demand for hand formers
SIDO - PT Industri Jamu Dan Farmasi Sido Muncul Tbk
Business: Herbal Medicine and Food Products 

Strong, consistent earnings growth for past 5 years

+15.6% in 2020 YoY
Growth of 35% in Q3 2021 YoY
Consistently high margins

GPM at 55% in 2020 and 56.3% in Q3 2021
NPM at 28% in 2020 and 31.17% in Q3 2021
Consistently low DER

0.19x in 2020
0.19x in Q3 2021
Large positive FCF every year since 2016

Allows company to grow using internal cash
Allows company to regularly issue dividends
Market leader in industry with a hard to challenge position
ARNA - PT Arwana Citramulia Tbk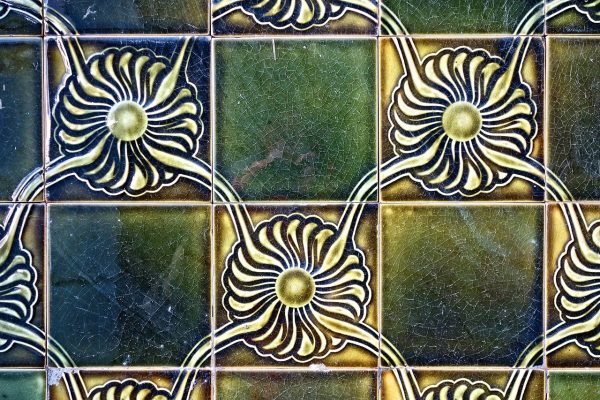 High Earnings Growth for the past 5 years

+50% growth in 2020 YoY
+57% growth in Q3 2021 YoY
DER consistently at manageable levels

0.51x as of Q3 2021
Large positive FCF since 2017


Increasing levels of cash allowed the company to reduce its bank debt
Large amount of cash as of Q3 2021: IDR 511.6 billion
Company can fund future expansions internally
Great profit margins relative to industry average

Margins have been consistently improving every year.
One of the largest manufacturers of ceramic tiles in Indonesia

Largest public company in the industry
Utilization rate of production capacity is consistently close to 100%, rare in the industry (average is around 65%).
This means demand for its products is much stronger than for the competition.
PRDA - PT Prodia Widyahusada Tbk
Business: Clinical Laboratory (Healthcare)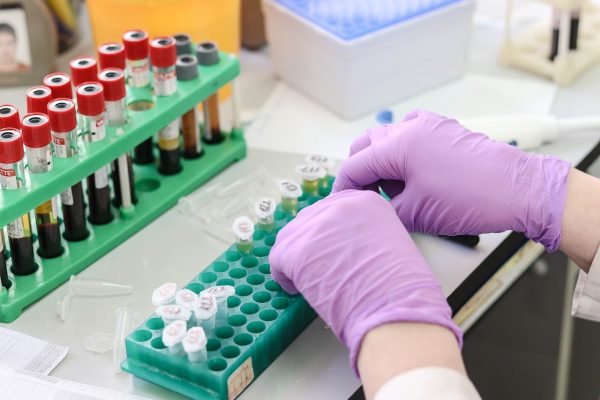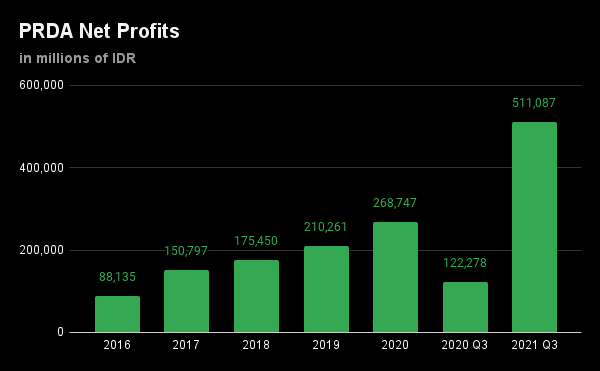 High earnings growth for the past 5 years


+27.82% growth for FY 2020
+317% growth in Q3 2021 YoY
DER consistently at low levels for past 5 years

Large amount of cash and timed deposits, very liquid

Cash =  IDR 679 billion as of Q3 2021
Time Deposits = IDR 799.9 billion as of Q3 2021
Good profit margins

Stable gross profit margins, 55.65% for FY 2020 and 61.93% as of Q3 2021
Improving net profit margins. 14.35% for FY 2020 and 25.67% in Q3 2021. 
CITA - PT Cita Mineral Investindo Tbk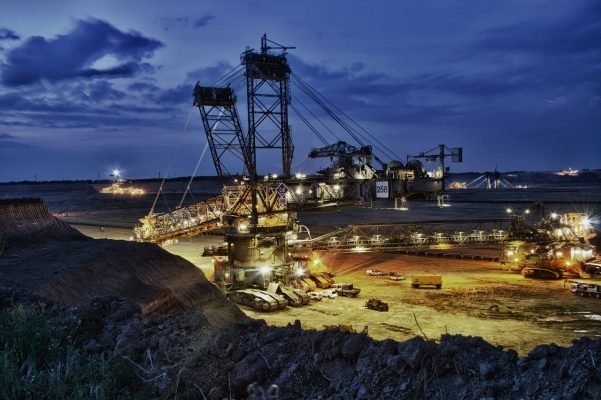 At the time of writing, CITA is the only bauxite mining company with an operational Smelter Grade Alumina Refinery.
President Joko Widodo has stated that bauxite exports will be banned by 2023, to induce bauxite miners to accelerate construction of their SGARs.
According to CITA, the company should be able to refine and sell 2 million tons of SGA per year by late 2021/early 2022, when it finishes the expansion to its SGAR.
"We have access to large bauxite deposits with total reserves of 144.3 million WMT, resources of 333.2 million WMT as at March 2021 and with 11.0 million WMT of production in 2020, we are the eleventh largest bauxite producer globally and also the largest bauxite producer in both Southeast Asia and Indonesia according to AME. "
I have written a much more detailed post about this company before, you can read it here. 
CMRY - PT Cisarua Mountain Dairy Tbk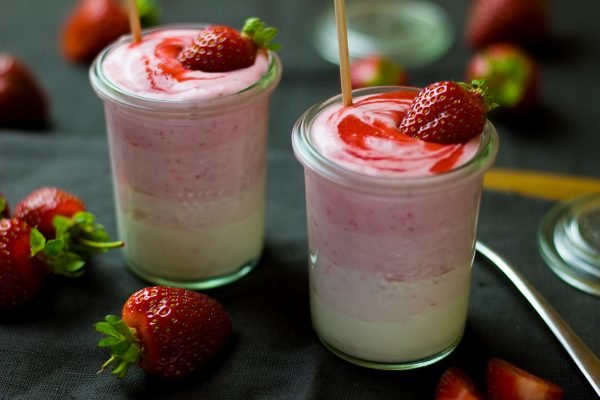 High revenue growth 

+33.88% in 2020
+119% in Q3 2021
High earnings growth 

64% growth in 2020
798% growth in Q2 2021 YoY
Market Leader for Yoghurt
High margins

GPM at 41% in 2020 and 48% in Q2 2021
NPM at 9.5% in 2020 and 23% in Q2 2021
Good DER at 0.66x as of Q3 2021
Please Note: CMRY is a recent IPO, and may be more risky than other stocks on this list due to limited available data. 
As of January 23, 2022, I own a small number of shares in BYAN, MARK, ARNA, PRDA and CITA. Also, I have owned shares in SIDO and CMRY in the past, but do not currently own any shares in these companies. 
Although I try to be as objective as possible in my analysis, some bias may nevertheless be present.
Please seek advice from a finance professional before making any investment decisions. 
Readers are fully responsible for their own investment decisions, and must do their own due diligence.
I take no responsibility for any losses you may incur based on the information provided.