What Makes Cita Mineral Investindo Interesting
"Past Turnaround, now Asset play?"
Just some years ago, Cita Mineral Investindo [CITA] was a bauxite mining company facing an existential crisis: it, along with others in the bauxite industry, was banned from exporting the commodity.
Most, if not all, bauxite mining companies had relied on exports for revenue, as the local demand was nowhere near enough to absorb domestic supply. Suffering as a result of this export ban from 2014-2017, the company had experienced a period of depressed revenues and uncertainties. 
But management had seemingly planned for the future, and built Indonesia's first Smelter Grade Alumina Refinery (SGAR) in 2016.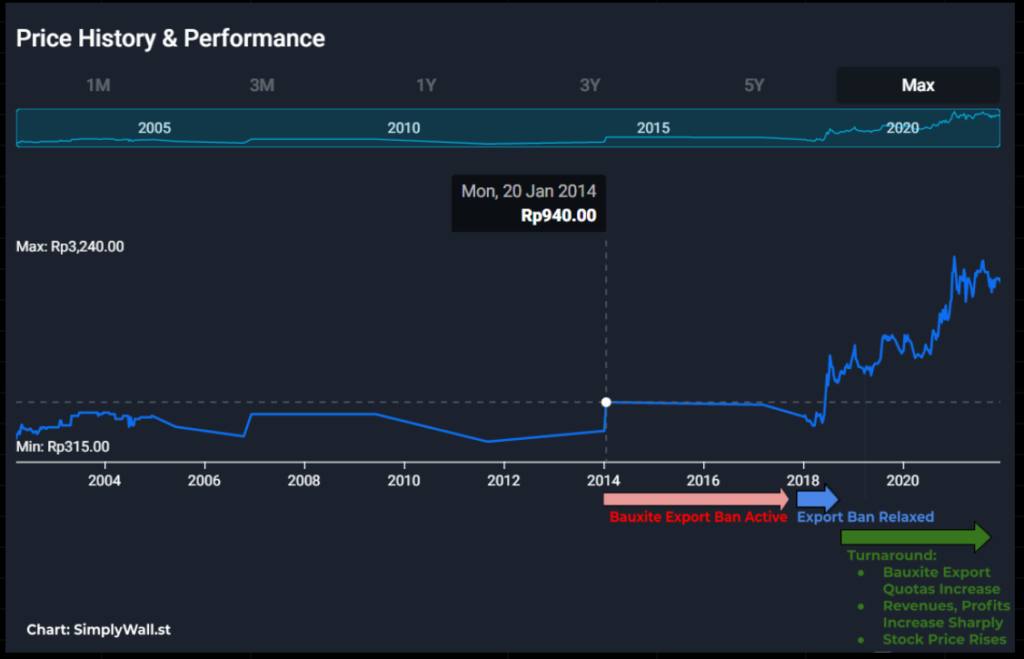 When the export ban was relaxed in late 2017, Cita Mineral Investindo was awarded the highest bauxite "export quota" as it possessed the only operational SGAR in the country. As a result, it saw a massive increase in revenues and profits, followed by an increase in share price that marked its successful turnaround.  
Indonesia's Biggest Bauxite Producer and Exporter, by Volume
As seen in the table below, Cita Mineral Investindo has produced the majority of Bauxite in Indonesia for the past few years. Per 2020, CITA's bauxite production accounted for 42.47% of total bauxite produced in Indonesia.
After the Indonesian export restrictions for bauxite was eased, CITA has been receiving the largest bauxite "export quotas" among Indonesian bauxite exporters.
These "quotas" represent the amount of bauxite CITA is allowed to export, and is awarded by the Indonesian government based on the construction progress of Smelter Grade Alumina Refineries (SGAR) being built by bauxite mining companies. 
As of mid 2021, the company still has the only operational SGAR in Indonesia. As such, the government has allowed Cita Mineral Investindo to export more bauxite than any other Indonesian company. On account of the company expanding its SGAR, it has been given an even larger "export quota". 
For a one-year period in 2020, it was allowed to export 4.04 million tons of bauxite, and was also given an additional export cap of 4.3 million tons. 
Sole Indonesian Producer of Alumina
As stated before, Cita Mineral Investindo owns and has been operating the only finished SGAR (Smelter Grade Alumina Refinery) in Indonesia since 2016. CITA owns this SGAR through an associated entity, Well Harvest Winning (CITA owns a 30% stake in WHW). 
CITA's SGAR has an output capability of 1 million tons of Alumina per year, and the company is expecting to be able to produce an additional 1 million tons per year once the expansion to its refinery is completed. The expansion is expected to be completed in late 2021/early 2022. 
It should be noted that currently the company's profits from exporting bauxite is much higher than from selling alumina.
For now, the value of the SGAR for CITA seems to come more from the bauxite export quotas it guarantees rather than its ability to turn bauxite into the more expensive alumina. This may change if CITA increases its ownership of WHW, which would increase its share of profits from the alumina segment. 
Low domestic demand for bauxite
One of the main reasons that CITA was so heavily affected by the bauxite export ban is that local demand for the commodity accounts for just 8% of the total bauxite produced in Indonesia (3  million tons out of 40 million).  
Thus, for the foreseeable future, the company (along with the bauxite mining industry in Indonesia in general) will continue to be heavily reliant on exports to generate revenue. 
This is why the SGAR CITA possesses is an extremely valuable asset.
First, it guarantees domestic sales of around 1 million tons of the company's bauxite to an associated entity (WHW), which refines the bauxite into alumina. Then, as CITA partially owns WHW, it also receives a 30% share of the profits from alumina sales.
And most importantly, the SGAR is also essentially a license to export bauxite (mostly to China), which at the moment comprises the majority of the company's revenues.
Looming Uncertainty: when will the ban resume?
Originally, the export restrictions on bauxite were supposed to resume in January 2022, but the government has extended this to June 2023, in light of the still low domestic demand for bauxite. 
Personally I expect the government to delay the ban even further than 2023, as other companies have made slow progress in building their SGARs. If these refineries are still not completed by 2023, then the growth in local demand for bauxite that the government is hoping for simply won't be enough.
You can see the progress of SGARs currently being built below: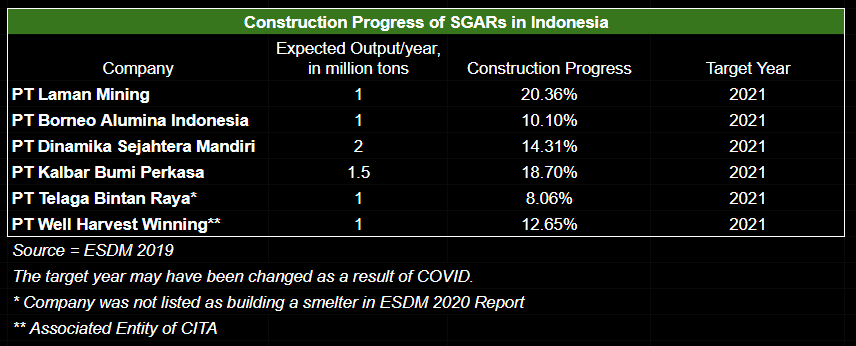 Competition is coming... slowly
As of early 2021, these SGARs are still not operational (multiple news sources in 2021 still state that Cita Mineral Investindo is the only company to have an operational SGAR). 
Although not yet a competitor, Inalum is building an SGAR in partnership with Antam through PT. Borneo Alumina Indonesia, and will be a competitor in the alumina space once the refinery is completed. (Antam itself is also a competitor for CITA in mining bauxite, though it's not Antam's main business)
The construction progress of PT BAI's smelter is reported to be at 22%, below its target of 32% completion by 2021. 
I have not been able to find recent reports regarding the construction progress of the other companies' smelters, but it's reasonable to assume they are not close to finishing their smelters either.
Again, this slow progress makes it likely for the government to delay the ban, perhaps by a few years. This would allow CITA to continue exporting bauxite for some time and maintain its current level of revenues. 
Additionally, the uncertainty of when the ban will resume and the refinery construction taking longer than expected may cause bigger companies to consider acquiring Cita Mineral Investindo for its SGAR. The "export quota" attached to the SGAR would add trillions in revenues, and bigger companies may have enough assets to further expand the SGAR before the ban is re-implemented. 
Closest Rival in Bauxite mining: Antam
In the Bauxite and Alumina segments, Antam is arguably CITA's closest competitor. However, it's clear that CITA's bauxite production and sales are both far ahead of Antam's. 
This gap is likely because Antam has received a smaller "export quota" than CITA, and not because the company is unable to mine more Bauxite. In reality, Antam has more than 585 million wet metric tons of Bauxite resources, while CITA has only 311 million wmt in resources (as of 2020). 
When Antam eventually finishes its SGAR, it would likely receive a higher export quota, and ramp up bauxite production then. For now though, CITA is well in the lead. 
Notably, Antam's CGA seems to sell for a higher price per ton than Cita's SGA.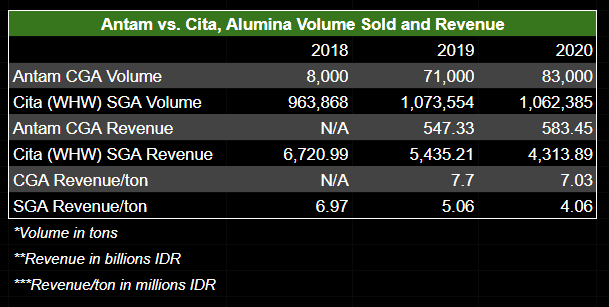 Smelter Grade Alumina is mainly used in manufacturing aluminum metal, while CGA has a variety of applications. 
For the list of applications of CGA, specifically the types of CGA manufactured by PT. Indonesia Chemical Alumina (Antam's subsidiary), click here.
Although CITA is interesting as a potential investment, it may also be worth it to consider Antam. When Antam's SGAR is finished it would mean trillions in additional revenue, not just from the SGA it would then be able to produce, but also from the potential increase in bauxite exports as it would likely receive a higher quota. 
CITA's shares are highly illiquid. For the past year, the traded volume has mostly been under 100,000 shares per day and frequently below 10,000 shares per day.
The uncertainty regarding when the export ban on bauxites will resume must be considered as well, as exports make up the majority of the company's revenues.  
Revenues would likely remain stagnant if the company does not further expand its SGAR (and therefore secure a higher "export quota" for its bauxite). As the company has stated

there are currently no plans for such expansions

, growth prospects are somewhat dim. 
As of December 18th, 2021, I own a small number of shares in CITA. 
Although I try to be as objective as possible in my analysis, some bias may nevertheless be present.
Please seek advice from a finance professional before making any investment decision. 
Readers are fully responsible for their own investment decisions, and must do their own due diligence.
I take no responsibility for any losses you may incur based on the information provided.