Prodia Widyahusada [PRDA]: Profits Soared Over 130% in 2021; Revenue Up 41%
"Increased Health Awareness = Profits"
As market leader in the clinical laboratory industry, Prodia Widyahusada was poised to benefit from the increase in health awareness among Indonesians as a result of the COVID pandemic. 
After mobility restrictions were eased in Indonesia in 2021, total number of visits to Prodia increased by 16% from 3.1 million in 2020 to 3.6 million.
The company's extensive network of 257 outlets across Indonesia's islands and vast offering of a wide variety of tests helped it secure a 40% growth in total tests processed in 2021 compared to 2020, for a total of 19.6 million tests. 
Of these, 2.2 million were comprised of its more expensive esoteric tests, which contributed IDR 999.2 billion towards total revenues or roughly 37.67%. This represents a 42.68% growth in revenue from esoteric tests compared to IDR 700.3 billion in 2020.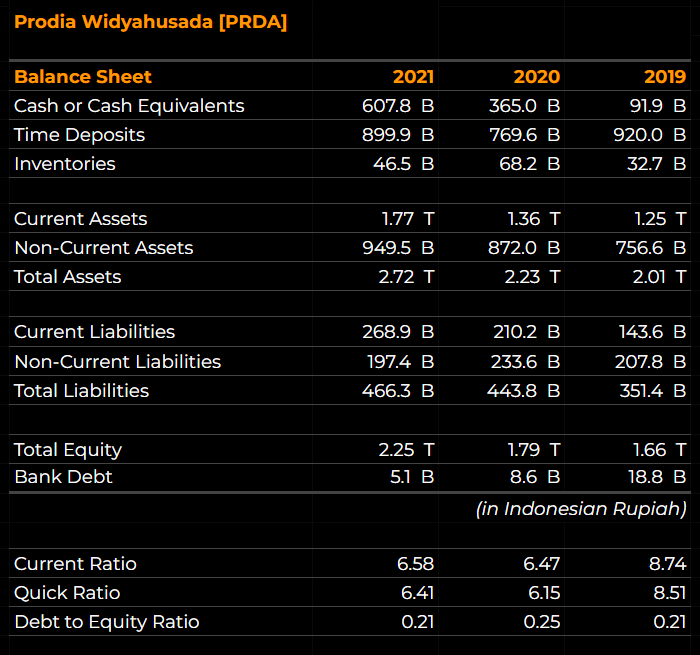 In both 2020 and 2021, the amount of cash/cash equivalents and current assets in general on Prodia Widyahusada's balance sheet increased significantly. As of December 31, 2021, the company has IDR 607.8 billion in cash/equivalents and another 899.9 billion in time deposits.
With bank debt totaling just 5.1 billion and Debt-to-Equity ratio at 0.21x, Prodia Widyahusada's balance sheet is incredibly healthy. Additionally, Prodia has a current ratio of 6.58x and a quick ratio of 6.41x, indicating strong liquidity.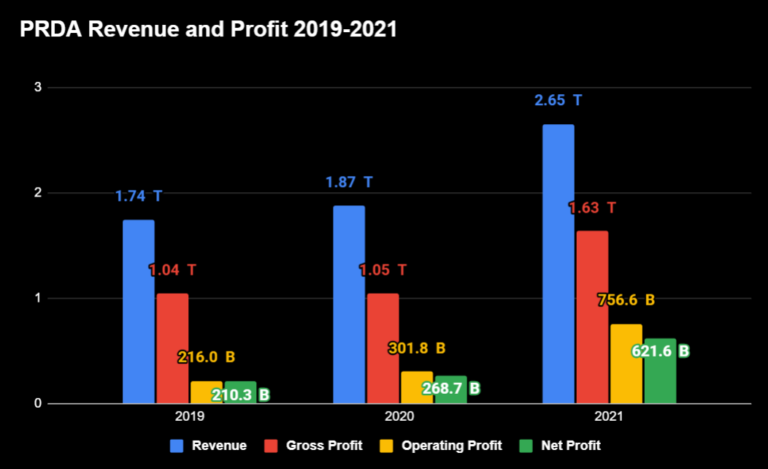 In 2021, Prodia Widyahusada's revenue soared to IDR 2.65 trillion, a growth of 41.58% compared to 2020. Net profit increased by a staggering 131% to 621 billion, compared to an increase of 27.82% the previous year. 
As a result, the company's return on assets increased to 22.87% from just 12.04% in 2020, while its return on equity increased to 27.6% from 15%. 
In addition, Prodia Widyahusada's profit margins saw significant improvement. In 2021, its operating and net profit margins rose to 28.53% and 23.44%, respectively. Just a year before, operating and net profit margins stood at just 16.11% and 14.35%, respectively. Gross profit margin also improved, from 55.85% in 2020 to 61.56% in 2021. 
Since 2019, the company's cash from operating activities has been steadily increasing. In 2021, Operating cash flow reached IDR 777 billion, from just 434 billion the previous year. As a result, free cash flow rose to over 569 billion in 2021, despite CapEx also increasing in the same year.
Since Prodia is not only able to increase its earnings annually, but is also able to reliably convert those sales into cash, we can conclude that the company has high quality cash flows. 
Prodia Widyahusada's strong cash flows has allowed it to amass a large cash pile, with cash/cash equivalents currently at IDR 607.8 billion and time deposits at roughly 899 billion for a combined total of 1.5 trillion.
Considering its cash pile and that the company is budgeting IDR 200 billion for CapEx in 2022, Prodia can feasibly fund its capex needs internally for more than a few years.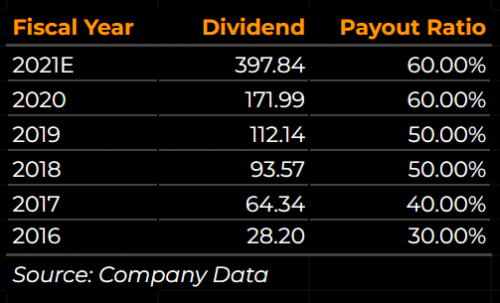 Although it has operated for decades and was one of the pioneers in the Indonesian clinical laboratory industry, Prodia only became a public company relatively recently in 2016. Since then though, the company has issued dividends every fiscal year, with both its dividend payout ratio and its dividend per share amount rising annually. 
For fiscal year 2020, the company paid out 60% of its earnings as dividends at IDR 171.99 per share. Assuming that Prodia will issue dividends with the same payout ratio as FY 2020, dividends for fiscal year 2021 is estimated to be about IDR 397.84 per share.
At the current market price of IDR 7625 per share (March 15th, 2022), this implies a relatively high yield of 5.22%. Prodia usually issues its dividends in April or May. 
As of March 15th, 2022, Prodia Widyahusada closed at a price of IDR 7,625 per share. With 0.9 billion shares outstanding, the company has a market cap of 7.15 trillion. 
In 2021, Prodia's earnings per share reached 663.06, resulting in a trailing PER of 11.5x. Based on estimates for 2022 EPS, the company has a forward PER of just 8.66x.
Given its performance, health, and prospects, Prodia should be trading at a forward PER of 12x at the very least. This implies a target price of IDR 10,562 per share and a potential upside of 38.52%. 
With a track record of high earnings growth, strong cash flows, a healthy balance sheet, minimal debt, a history of increasing dividends, and an undemanding valuation, Prodia seems like an incredibly attractive investment with few risks. 
While the company has undoubtedly benefitted from the added revenue brought in by PCR and other COVID-related tests, its business should continue to grow long after the pandemic is over thanks to the Indonesian public's increasing health awareness. 
According to management, COVID-related tests only make up roughly 20% of its revenues anyway, so it seems that much of the growth in sales for Prodia has been in its non-COVID related offerings. If PCR tests decrease in volume in 2022, this would mean that the impact on Prodia's business is mitigated.
As always, do your own research. 
As of March 15th, 2022, I own a small number of shares in PRDA.
Although I try to be as objective as possible in my analysis, some bias may nevertheless be present.
Please seek advice from a finance professional before making any investment decision. 
Readers are fully responsible for their own investment decisions, and must do their own due diligence.
I take no responsibility for any losses you may incur based on the information provided.