3 Key Points from Arwana Citramulia 2022 Public Expose
Homogenous Tiles to Drive Growth for the Near Future
As many may already know, Arwana Citramulia started manufacturing Homogenous Tiles in 2021 when it began operations of its new Plant 5B, with a production capacity of 3 million sqm of tiles per year.
According to the latest data from ASAKI, the national production of homogenous tiles (AKA glazed porcelain tiles) is currently 76 million sqm per year, while Statistics Indonesia (BPS) reports that an additional 82 million sqm of tiles are imported annually, for a market size of 158 million sqm of tiles per year.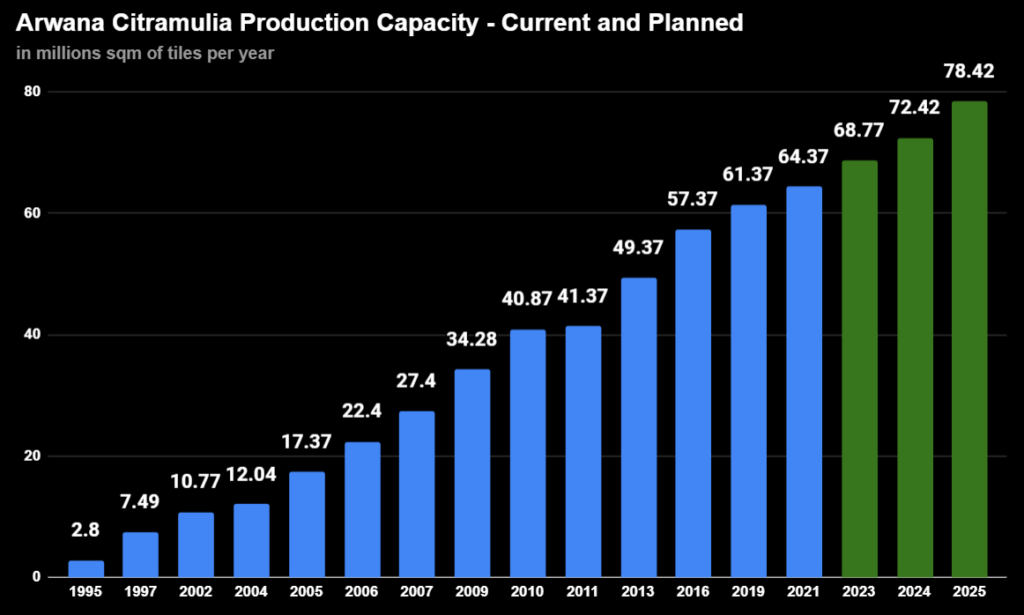 Since demand for the high-margin product far exceeds the company's supply, Arwana Citramulia will capitalize on the opportunity by expanding its production capacity for homogenous tiles. Currently, the company is constructing Plant 5C and when the factory is completed (5C is slated to begin operations in 2023), it will allow Arwana Citramulia to produce an additional 4.4 million sqm of homogenous tiles per year.
After 5C, the company is planning further expansions with Plant 4C and Plant 6. Planned for 2024, 4C will add another 3.65 million sqm/per year in capacity, while Plant 6 (planned for 2025) will increase Arwana Citramulia's production capacity for homogenous tiles to a total of 17 million sqm per year.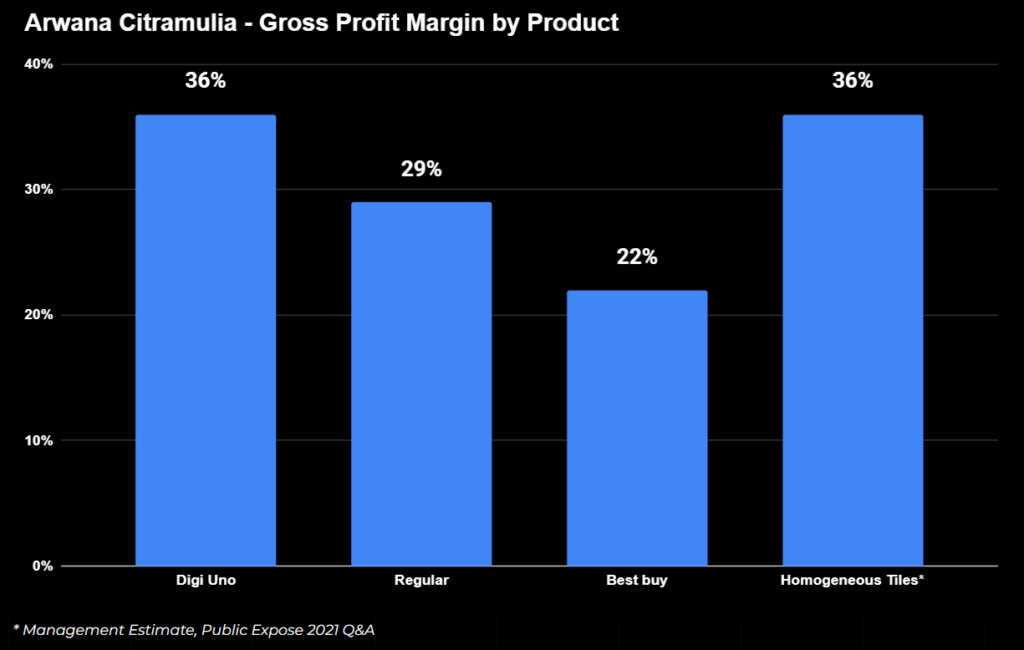 If these expansions go through, 21.68% of Arwana Citramulia's total production capacity in 2025 of approximately 78.42 million sqm per year will go towards manufacturing homogenous tiles. As homogenous tiles possess the highest margins out of all of Arwana's products, this strategy should drive earnings growth and increase profitability for the company.
The introduction of the new product helped increase Arwana's average selling price in 2021 by 3.72% YoY. Over the past several years, the average selling price of the company's goods have steadily increased.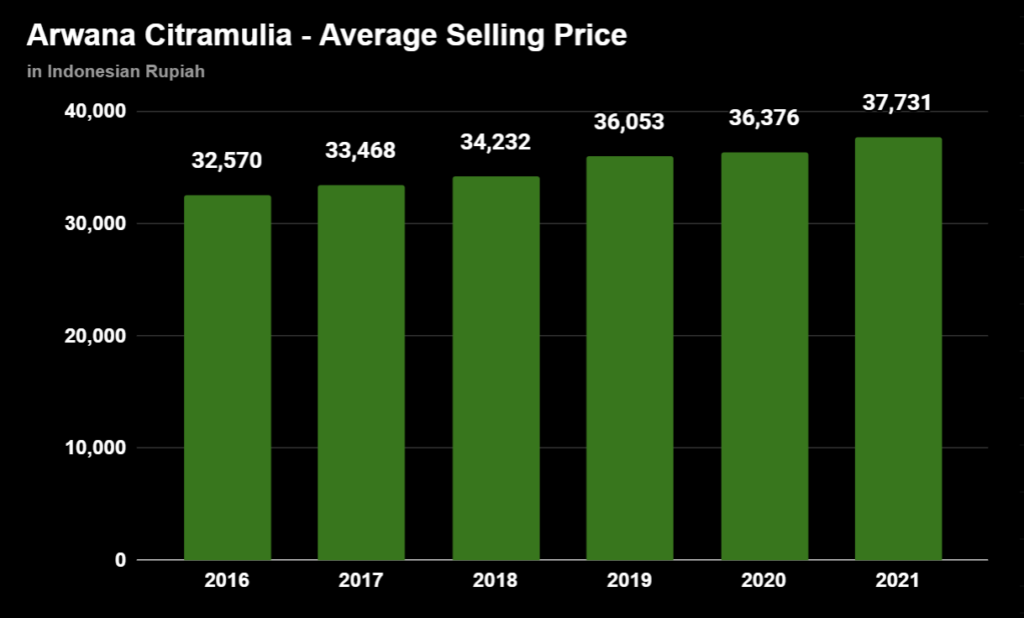 According to management, homogenous tiles currently contribute 5% towards total revenues and they expect that the planned factory expansions will increase this figure to 16% of total revenues in the future. Further, Plants 4C and 5C are expected to increase net income by 90-100 billion IDR once they start operating.
With its consistent, healthy cash flows and a sizable cash pile of IDR 602.6 billion as of December 31st, 2021, Arwana plans to fund these expansions internally. The company will also retain 30-40% of annual earnings to help pay for the plants, while the rest will be issued as dividends. Reportedly, these 3 plants will cost an estimated IDR 1 trillion to construct (300 billion each for Plants 5C and 4C, and 400 for Plant 6).
Issues with Gas Supply and Cost: Cause for Concern?
Comprising 30% of total production costs in 2021, gas supply and cost remain an important factor for Arwana Citramulia. Like the rest of the Indonesian ceramic industry, the company has been a beneficiary of the government policy that began limiting gas prices to USD 6 per mmbtu in 2020.
However, it was reported that despite the policy being implemented, a shortage of gas supply has caused difficulties for some companies in acquiring gas at the capped price. Unfortunately, Arwana Citramulia was one of those companies affected.
Apparently, the company was advised to only use 65% of the gas it is allocated by the government. Usage of gas past that level would mean that the company had to pay more than USD 6/mmbtu (sometimes paying near 6.5/mmbtu).
As it was still profitable to produce more tiles despite the higher gas cost, Arwana chose to do so (the company utilized 107.3% of its production capacity in 2021). To mitigate the rise in gas cost, Arwana slightly increased prices for its products, passing some of that cost to customers.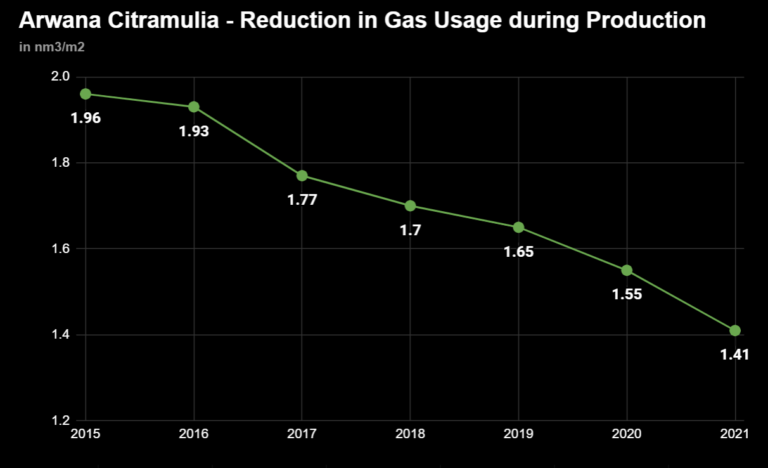 Facing these risks of rising gas costs and supply shortages, the company is continuing its efforts to improve its efficiency in gas usage. Notably, as gas costs remained at USD 6/mmbtu in 2021 (and even became more expensive when the shortages took place), Arwana Citramulia's reduction in Cost of Goods Sold of around IDR 31 billion was purely a result of the company's increasing efficiency in gas usage.
Thanks to Arwana's higher utilization rate, innovation in raw materials, and improvements in production techniques, it was able to reduce the amount of gas used to produce 1 sqm of tile by 9%, compared to 2020. Previously, the company reduced gas usage by 6%, from 1.65 nm3/m2 in 2019 to 1.55 nm3/m2 in 2020. For 2022, it is targeting a further reduction of 6% from 1.41 nm3/m2 in 2021.
Besides lowering gas usage, Arwana has also continued to decrease raw material costs in 2021, which decreased by 3.76% compared to 2020. The savings that the company produces from cutting costs may be enough to offset future increases in gas prices.
Rising Shipping Costs: A Tailwind?
As some may already be aware, shipping costs have rapidly risen globally in 2021. For foreign manufacturers of ceramic tiles who export to Indonesia, such as those in India and China, the expensive shipping fees meant a decrease in the competitiveness of their products in the Indonesian market.
Despite facing similar issues with domestic shipping costs, Arwana Citramulia was not affected by the rise in international shipping costs as much as its foreign competitors since exports make up less than 1% of the company's total revenues in 2021. Exports accounted for similarly low levels of total revenue in previous years.
It appears that the company's focus towards the domestic market is proving to be a competitive edge, at least in the short term.
For 2022, Arwana Citramulia is targeting sales growth of 8% and earnings growth of 30% YoY.
Besides higher shipping costs, Chinese tile exporters also face higher gas prices in China (USD 7-8 per mmbtu), further decreasing their competitiveness in the Indonesian market.
On top of these issues, all of the countries designated as major tile exporters to Indonesia (China, India, and Vietnam) also face import tariffs imposed by the government.
Imports are facing problems in extending the SNI certifications for their tiles, as the Indonesian officials responsible for granting the certifications have been unable to travel internationally due to quarantine. SNI certifications are required for imports.
As of March 18th, 2022, I own a small number of shares in ARNA.
Although I try to be as objective as possible in my analysis, some bias may nevertheless be present.
Please seek advice from a finance professional before making any investment decision. 
Readers are fully responsible for their own investment decisions, and must do their own due diligence.
I take no responsibility for any losses you may incur based on the information provided.